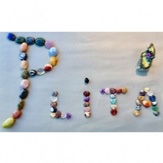 www.plita-mineral.com / Deutsch
There are three PLITA companies : in Madagascar, in the USA and in France.
By having a team at the source for the supply, and by participating in the largest mineral and fossil trade fairs (Tucson show, Denver Show, New York show, Munich Show and Mineral & Gem Sainte Marie Aux Mines) we can provide you with the products of your dreams, whether you are a professional or an individual.
Following Our contact details in France:
PLITA EROPA SAS
HEAD OFFICE
6 Rue de Bitschhoffen La Walck - 67350 Val de Moder - France
39 Rue Principale - 67350 Kindwiller - France
by text message
Tel /whatsapp :
+33 (0)6 86 14 48 40
+261 (0)34 19 287 81
E-Mail : plita@plita-mineral.com
send us per text message the date and time.
---
RATSIMANDRESY PHILIPPE known as "PLITA" has been operating in Madagascar in mining products and Malagasy handicrafts since 1998. Then he created the PLITA companies.
Our Malagasy company, exporter of Malagasy mining products and artisanal products, continues to operate and in 2016 we created PLITA EROPA SAS to improve our service in Europe.
participates in major minerals and fossils trade fairs in Europe: Munich Show, Mineral & Gem Sainte Marie aux Mines
imports Malagasy products for customers who want a large volume. We study all proposals.
Maintains a commercial and friendly relationship with its customers.
operates

www.plita-mineral.com

for more efficiency and ease.